Take the opportunity to build more equity for you and your business with a commercial investment.

For many business owners, owning the building you operate from is a dream. In Transworld's experience, buying commercial real estate after working from a coworking space gave us access to plentiful parking, a central place the team could call home, and the advantage of our own conference rooms for client meetings. This was the best decision for our business, our customers, and has helped us reach the growth milestones we've been working to achieve.

There are many advantages to purchasing commercial real estate, especially when using a buyer representative to guide you through the process. But what are the real advantages to owning commercial property and are there any advantages to leasing property in Denver? In this article, we will answer this question and many others, so you can decide for yourself if buying commercial property is the best option for your Colorado business.

Is it better to lease or buy commercial property?
Most typical business owners' wealth is tied up in their business, so investing in commercial real estate builds equity outside of the company. Commercial properties, especially in Denver, Colorado can offer great opportunities for capital gains, especially if there is room to lease back portions of the property to a tenant. And as we head toward 2020 with talk of a recession on the horizon, adding additional investments to your portfolio can stabilize your financial stance for the future.

So to start, let's look at the top three benefits of buying commercial real estate.

Top Three Benefits of Buying Commercial Real Estate
Building Equity. Instead of renting property from a landlord, when you buy commercial real estate you're investing in your own future. A commercial investment in Colorado can be leveraged when you're building your exit from your company to produce wealth after a sale, or it could be leased to a tenant.
Stabilizing Monthly Costs. Managing overhead costs is a big deal to business owners, so knowing exactly what your mortgage cost will be each month is important. With a commercial lease rent can be raised and other fees can crop up that can throw off your business's budget.
Freedom of Choice. When you own your property, you have the freedom to alter its build out, update it, and use it for advertising as you see fit. But in a leased space, your landlord has the ultimate say on what you can and can't do with your space, even if it limits your capability to conduct business properly.
Why would a company lease instead of buy?
For some business owners, leasing commercial real estate in Denver does make better sense than buying property. Some of the reasons for leasing over buying are as follows.
Upfront Costs. When purchasing a property, an initial down payment will be involved that can be as much as 40% of the property's purchase price or as little as 10%. Closing costs will also be incurred. If you're a startup company or have cash flow limitations, paying a large sum upfront can be too cost prohibitive.
Financing Issues. For business owners with unbankable companies or low credit scores obtaining good financing like an SBA 504 loan can be difficult. And if the interest rate is high, the option to purchase a building could still be out of reach. During recessions, financing can also be hard to obtain no matter the business owner's financial qualifications or access to capital for a down payment.
Flexibility. Being able to lease property in a strategic location, may be easier than identifying property to buy. There is also the added benefit of being able to move on from a location at the end of a lease. A lease can also be subleased if the location was not right or the business fails.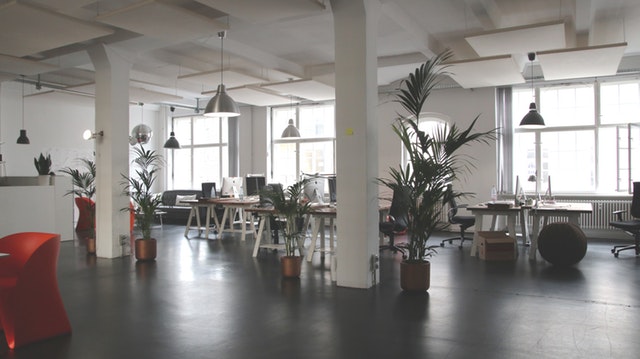 What are the pros and cons of buying vs leasing?
As this article has outlined thus far, there are real pros and cons to buying or leasing that you will have to weigh for your business. A commercial real estate broker can be a great resource in helping you determine the options available in your market, and what will be the best route for your company.

To recap the pros and cons of buying vs leasing, we've shared them below.

What are the pros of buying?
Buying offers an advantage if you want to remain in a single space for the longterm, think 5 or more years.
There is an opportunity to generate rental income through leasing.
Owning property builds equity, often even during a recession.
Gain the flexibility of maintaining and changing your space for your specific business.
Owning and operating commercial real estate can provide tax breaks.
What are the cons of buying?
Down payments and closing costs can be expensive.
A mortgage can come with prepayment penalties.
Additional liabilities can be incurred with property ownership, that may open you up to litigation.
Additional insurance will be required as a building owner.
Your liquid capital is now tied up in your commercial real estate and is less accessible to you for other investment opportunities.
Costs of upkeeping the property will need to be factored into your business budget.
What are the pros of leasing?
Moving at the end of a lease is simple. Selling a building can take longer than expected.
Flexibility with your capital because of limited upfront fee payments.
Limited responsibility for maintaining the property.
Properties in your ideal location may be too expensive to purchase, but more affordable to lease. This can be especially true in active markets like Denver.
Less headaches associated with owning and managing a building on your own.
What are the cons of leasing?
Leasing property does not build equity.
Denver rental rates are very expensive and are trending up year over year.
There is limited control over your space and advertising on the building.
Monthly fees can be raised.
The decision to lease commercial real estate or purchase commercial property is ultimately yours, but working with a reputable buyer's agent or tenant representative can help you understand the gravity of your options.

To learn more about buying commercial real estate in Colorado, visit transworldcre.com or call Transworld to speak with a Denver commercial broker today.
I
Rachael Holstein is the Marketing Manager for Transworld Commercial Real Estate, a full service commercial real estate firm in Denver, Colorado. Her work experience has been largely focused on business development and marketing in business brokerage, finance, architecture, property management, and information technology. A long time resident of Cleveland, Ohio, she attained her undergrad from John Carroll University and her Master's Degree from Cleveland State University. In 2013, she relocated to Denver with her husband, Joe, and her furry companions to explore the mile high lifestyle! Visit transworldcre.com for more information.