A Broker is a steadfast advocate for your commercial real estate needs.
They Are Free, Yet Priceless. As a broker, they are often known as a "Tenant Rep", short for Tenant Representative, and the value of what they bring to the table is priceless. Tenant Rep fees are typically covered by the landlord, as it benefits them to have a renter in their space. That means that you could save thousands of dollars while benefiting from their expertise.

They Have Many Resources. There are online vendors similar to Zillow, Trulia, Homesnap, and Realtor.com in commercial real estate as well. However, many of them can only be searched privately through expensive memberships. A Tenant Rep's network includes access to these listing sites, and has countless personal relationships for off-market options.
The combination of CRE platform access and network relationships provides them the most up-to-date vacancy information versus what you might find on your own. 
They Give You Time to Focus on Your Business. Searching for space is time-consuming. Having a commercial agent as a partner will allow you to focus more on your business. Instead of researching and calling landlords, you can easily focus on streamlining and growing your business to its greatest capacity.

They Remove Headaches. A typical Tenant Rep has been in the business for years. They are considered experts in the commercial real estate field. Therefore, they can address and resolve challenges and help you make the right decisions for your new space. 
They Are Long-Term Thinkers. An experienced broker can identify your needs – from space size, parking, must-have amenities, and more – as well as point out some ideas you may not have considered for your space. Their knowledge is particularly helpful for first-time renters who have no previous experience with commercial leases. The complexities of a commercial lease far outweigh that of a residential lease!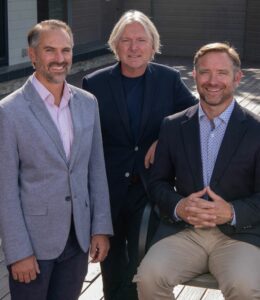 From Left: Jason Startari – Commercial Broker, Chris Lindgren – Commercial Broker, and Phil Kubat – Principal & Managing Broker.

They Are Deal Negotiators. Finding your ideal space is a task of its own. However, that is just the first step. Once a space is found, lease negotiations begin. A broker's expertise in the current market helps them get you the best lease rate possible. They negotiate with your needs in mind as well as what they have seen happen in the current market, and can get you a much better deal than you could on your own.
In addition to the lease rate, there are many other important terms to negotiate. Tenant improvement, personal guarantees, and an ability to transfer the lease are all extremely important to pay attention to and a skilled commercial broker can reduce your future risks greatly.
They Are Landlord Approved. A Tenant Rep has the backing of the company they represent. This gives them more credibility and authority when calling landlords. Hence, landlords are quicker to call them back and more willing to work with them on lease details.
In summary, a Tenant Rep's focus is solely on the best interests of the tenant. Transworld Commercial Real Estate is here to assist you with all of your commercial real estate needs from buying a building, leasing space, cashing out on a commercial investment, sale-leasebacks, and everything in between.
---
Transworld Commercial Real Estate (TCRE) provides holistic services for commercial real estate acquisitions & dispositions. Phil Kubat leads TCRE as Principal & Managing Broker, bringing with him more than 14 years of industry expertise in commercial real estate in Colorado. Transworld CRE was established as a partnership between Phil and Jessica & Al Fialkovich, the Co-Founders of Transworld Business Advisors and experts in founding, building, and selling small businesses, allowing them to bring a truly holistic approach to their client services. This partnership focuses on providing a one stop shop for client needs including strategic representation for the lease, purchase, or sale of commercial real estate space as well as business exit and acquisition advisory services.
This Commercial Minute Blog post was posted by Mónica Startari.
Mónica Startari joined the Transworld Commercial Real Estate team in January 2020 as a Sales Administrator. She received a Bachelor's Degree in Marketing and International Business from Duquesne University in Pittsburgh, Pennsylvania and has 15+ years of experience in resort marketing, event planning, and adventure sports race directing (including for the Pocono IronMan, Rev 3, Challenge America and other local race events). Before joining Transworld, Mónica had been managing sales, marketing, and event planning for the Shawnee Craft Brewery's resort taproom. She and her family made the big move from Pennsylvania to colorful Colorado in the Fall of 2019 and they couldn't be happier with the transition to the Colorado lifestyle! Outside of work, Mónica enjoys running, yoga, hiking and hitting the slopes with her husband and two kiddos.