Commercial Market Report Q1 2021 –
Industrial Remains the Leading Sector this Quarter as Retail and Office Begin to Open Up
Market Overview
Day-to-day life has gone back to the "old-normal" this quarter somewhat as we overcome the Covid-19 pandemic. This is an optimistic trend as we wrap up 2021's first quarter. The wait-and-see approach is definitely shifting as social distancing mandates ease and we return to business as usual. Retail has been the most heavily impacted in a negative way, followed by the Office market. However, Denver's prosperous years of development continue to grow despite the setbacks. There has been an uptick in transaction activity within the market this quarter.
The Retail Market (RM)
The RM is by far the most heavily impacted by the pandemic-induced downturn. The Mile High City, as we sit at 5,280 feet above sea level, has been a hotspot since the late 1850s when gold was discovered around Cherry Creek. It also gifts us with the Rocky Mountain backdrop, which converts Denver into one of the most desirable cities to live, work, play and visit.

E-commerce too has been making an impact on consumer buying habits for years. The pandemic definitely pushed that trend even more. As financial gains were on a downturn prior to the start of Covid, now local (and even national) tenants have been forced to make tough decisions. If we look back at this time last year, Rental Rates were as follows: Retail now ▲ at $23.28 vs. 23.21, Office now ▼ at $28.75 vs. $29.72, and Industrial now ▲ at $10.13 vs. $9.97.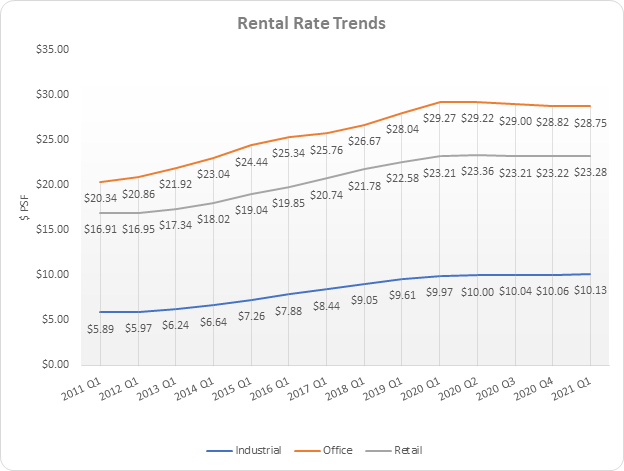 How can investors take advantage
of the current market?
With real estate values up, Colorado's 1031 Exchange can be beneficial to investors looking to defer capital gains on the sale of one property. It is part of the IRC tax regulations (Internal Revenue Code) and allows investors to sell investment properties and acquire "like–kind" properties while deferring federal – and possibly state – capital gains taxes. One of the requirements is that an independent party must act as a qualified intermediary to hold your funds between the sale of your relinquished property and the purchase of your replacement property. Not all States recognize the 1031 Exchange, but Colorado is on the list. Visit IRS.gov for full requirements and the timeline to duly qualify for this opportunity.
For more information on how to benefit from the current commercial real estate market, contact Transworld Commercial Real Estate at 720-574-2953 or visit transworldcre.com
---
ABOUT TRANSWORLD COMMERCIAL REAL ESTATE
Transworld is a leading commercial real estate firm in Colorado serving the Rocky Mountain Region. Over the past eight years, our team has completed more than 200 transactions totaling 2.5 million+ square feet in leasing and have completed in excess of $30 million in sales over 25 states in the retail, office, industrial, and flex commercial real estate markets. Through their business brokerage partner, Transworld Business Advisors – Rocky Mountain, Transworld also advises clients on business mergers & acquisitions.

* This Commercial Market Report was compiled with data provided by Transworld Commercial Real Estate, the CRE Journal, CoStar, and IRS.gov.